BSJ Contents
Winter 2017, Vol. 67, No. 4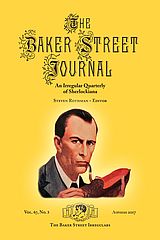 Weaving In and Out of the Game
ANDREW L. SOLBERG
A "Most Desirable Residence"
LESLIE S. KLINGER
The Death of Baron Dowson
CHRISTOPHER REDMOND
Illustrating the Gothic: "Shoscombe Old Place"
CANDACE J. LEWIS
Sherlockian Gothic in Conan Doyle's Last Bow
ROGER DONWAY
Charade in Kent
JENS BYSKOV JENSEN
Tapping Around The Hound
PETER CALAMAI
Art in the Blood
SCOTT BOND
The Commonplace Book
Baker Street Inventory
The Sherlockian Societies
Reports from Abroad
"Stand with me here upon the terrace . . ."
Index to Volume 67
Whodunit?
Our website includes sample feature articles from various issues of The Baker Street Journal that you can read for free online.

The "Extras" subsection contains material related to specific articles in The BSJ. Think of it as a supplement to the print edition of an article.

If you enjoy reading these articles and want to get the latest Sherlockian material and news, you can subscribe to the Journal online or with a check.